If YOU are that person who does not use their indicators at all ... OR ... who blinks them once and proceeds when changing lanes or exiting an intersection because it is a pain to use your turn signals the way they are? Then THIS is the product for YOU. By simply touching your turn signal switch up or down Once, the Blinking Smart Lane Changer will flash your turn indicator lights an additional 6 times allowing you to keep both hands on the wheel more. No more holding and keeping your fingers on your turn switch when changing lanes. Once you have used this product, you'll never want to drive another car without it.
Did you know that failure to use your indicators when turning or changing lanes is a ticketing offense?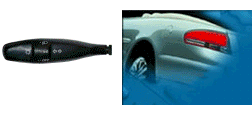 Why does the Blinking Smart Lane Changer blink 6 times over the equivalent of about 5 seconds? The reason for this is because of various studies done over the years by many institutions regarding how people interrupt flashing lights. The average person takes 1.5 seconds to see the first blink (remember there not always looking where the flashing is coming from), a split second for the brain to acknowledge this which leaves approximately 3 blinks for them to know your intention and you to make your maneuver. That's why we use 6 times.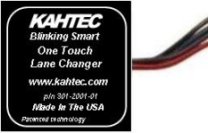 Comes complete with all connectors
We have all been behind someone whose blinker never goes off. You become irritated and often make dangerous maneuvers to pass this car. Don't let someone behind you become irritated because you have not signaled properly or have forgotten to turn off your indicator after changing lanes. Make life easier with a Blinking Smart ONE TOUCH Lane Changer.
Broken turn signal switch? No Problem! Why pay $300 or more to replace the broken indicator switch when can use the Blinking Smart ONE TOUCH Lane Changer instead. Save time AND money by ordering your Blinking Smart Lane Changer now.
Blinking Smart ONE TOUCH Lane Changer should work on most vehicles that have separate rear brake and indicator lights. It is easy and simple to install. It can fit either under the hood or in the trunk by connecting the device wires to the existing indicator circuit. Simply follow the wiring instructions supplied with your Blinking Smart Lane Changer or you can click here to view the Installation instructions.
If your automobile (i.e. Porsche 928 /944) that only has a single dashboard turn signal indicator light, the Blinking Smart One Touch Smart Lane Changer will not be able to flash this single indicator light when flashing your turn signals. Because of this, you might not be able to tell that your Blinking Smart unit is working properly. To solve this problem, the Blinking Smart Lane Changer Plus version provides an extra "Activity Output" that can be used to flash an alternate in-dash or add-on light to show when the Blinking Smart Lane Changer has been activated.
Key Benefits
Makes using your turn indicators a breeze.

Allows for ONE Touch Lane changing which means you can be seen and safe when making your maneuver.

Low cost fix for a broken turn indicator switch
Key Features
Easy to Use.

Fits most vehicles.

A very simple Do-It-Yourself Installation.

Uses state-of-the-art Microprocessor Technology.
Specifications
Size:  2" x 2" x 0.75" (51mm x 51mm x 19mm)

Wire Lengths:

Red, Black, 1 Blue = 1 ft. (0.3m)

1 Blue = 7 ft. (2.13m)

1 Yellow = 6 ft. (1.95m) Plus Version only

Operating Voltage:  12 Volts DC

Operating Temp:  -30ºC to +70ºC

Max Power Consumption:  1.6W
Plus Version Only
Activity Output maximum drive: 5 Watts
What Your Order Includes
A 100% operationally tested Blinking Smart Lane Changer

Four Quick Splice Connectors

Complete Installation Instructions

Quick delivery

Emailed receipt and customer support

15 Day Risk Free Money Back Warranty